Most thermostats measure temperature in only one place. Not ecobee.
---

---
Because most thermostats read the temperature in one place (usually the hallway), this can make other rooms uncomfortable. ecobee thermostats can pair with room sensors to deliver the preferred temperature to the rooms that matter. That's how we help manage pesky hot and cold spots, and provide your family with whole home comfort.
Make your smart thermostat even smarter.
More Comfort
Sensors can detect occupancy, helping deliver better comfort in rooms that matter.
---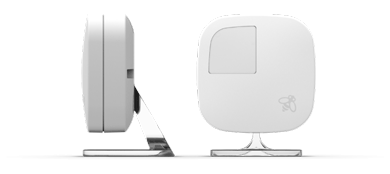 ---
More Savings
Automatically adjusts your ecobee to the right mode for savings when it senses you're not home.
More Control
Get room-specific temperature and occupancy readings with the ecobee mobile app on your iOS or Android device.
Engineered and designed for your home.
Fits right in
Room sensors are just as beautifully designed as they are engineered, so they'll look great no matter what room you place them in.
Pair up to 32
Pair up to 32 room sensors with your ecobee and place them in favorite areas like your living room, home office, or bedrooms.
Built to last
Sensors use a low-power radio frequency (915MHz) to communicate with your ecobee, so they'll last for up to four years.
---

---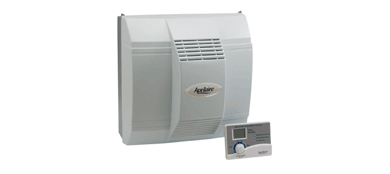 ---
Aprilaire Model 700 Humidifier
The Aprilaire Model 700 Humidifier is a large-capacity powered unit with big humidification performance to match the biggest of homes. The Model 700:
Has an evaporation capacity of 0.75 gallons per hour—among the highest capacity humidifiers sold
Humidifies tightly-constructed homes up to 4,200 square foot in size
Features truly automatic control
---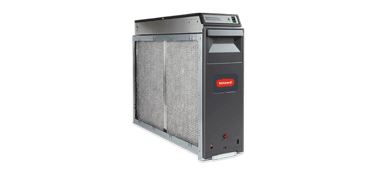 ---
Electric Air Cleaners
An air cleaner that's low cost and low maintenance
Need an affordable solution for air cleaning? Look no further than our F300 Electronic Air Cleaner. This air cleaner works efficiently to capture up to 99% of airborne particles in your home and requires minimal maintenance while doing so. Simply remove the filter every 6-12 months, wash it and replace it. No replacement filters needed. Achieving cleaner air has never been easier.
Highly Effective This filtration system places an electronic charge to collect up to 99% of airborne particles as they pass through the system
Easy to Maintain No replacement filters ever need to be bought. Just simply wash off the filter cell every 6-12 months.
Eco-friendly This air cleaner uses a filter that does not need to be replaced every month
---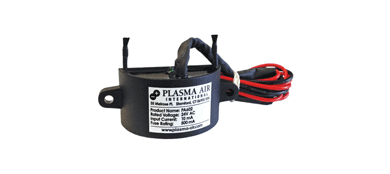 ---
Plasma Air Cleaners
Plasma Air ionization equipment is typically mounted in the central air conditioning system; either in the air handling unit itself or on the main supply ductwork. Millions of ions are formed as air passes over the ionization tubes. These ions travel through the duct system and out into the treated space attacking pollutants where they are most problematic – where we work, learn, live, eat, and sleep.
Much like sunlight does in the atmosphere, the Plasma Air technology produces a natural bio-climate rich in active oxygen molecules, otherwise known as ions. The Plasma Air system creates a measurable and controllable quantity of positive and negative oxygen ions. The negative ions contain an extra electron while the positive ions are missing an electron resulting in an unstable condition. These unstable ions provide the following benefits:
Particle Reduction Airborne particles are charged by the ions through ionic bonding. These charged particles stick together increasing their size allowing them to be easily removed by even low grade filters. Additionally, particles are the vehicles that transmit bacteria cells from person to person. As the ions cause increased particle size, the result is less bacteria in the breathing zone.
Sterilization As they divide in the split zone, bacteria and mold spores bond with active oxygen molecules and are oxidized and destroyed. The bacteria and mold can no longer multiply.
Odor Neutralization Odorous gases and aerosols oxidize on contact with active oxygen molecules. Odors, especially of an organic origin, are quickly eliminated.
VOC Control Volatile Organic Compounds (VOCs) are emitted as gases where there is carpeting, building materials, furniture, office equipment, cleaning agents, paints, glues, solvents or pesticides. The ions trade electrons with these VOCs breaking down their molecular structures into less harmful ones.
Health Benefits Human and animal lungs absorb oxygen more efficiently from clean ionized air, enhancing general health and well-being. Alertness and concentration are improved.
---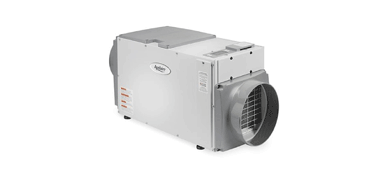 ---
Aprilaire Model 1830 Dehumidifier
The Aprilaire Model 1830 Dehumidifier is designed for smaller homes, townhomes, condominiums and crawlspace applications. The Model 1830:
Has the capacity to remove up to 70 pints of moisture per day (8 3/4 gallons)
Provides dehumidification for homes up to 3,800 square feet
Comes with a 5-year warranty
Made in USA